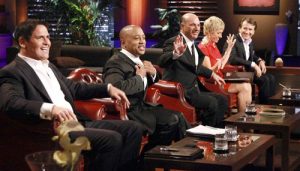 CBD oils are popular amongst many people because they allegedly help users treat cancer and relieve pain. Cannabis oil (CBD) can also ease anxiety and depression, prevent seizures, reduce acne, increase heart health AND is said to be Neuroprotective.  
But like keto pills there are rumours that CBD oils have featured on Shark Tank, which we have investigated. Some of which do but we find it difficult to prove all of the Shark Tank CBD oils have featured.
In this article, we will give a run down of the top legit Shark Tank CBD oils and products.
Table of Content
What is Shark Tank?
Shark Tank is an American reality show. It's similar to Dragon's Den here in the UK. The show's format involves a variety of entrepreneurs who have created products and services and who are looking for investment pitching to a number of seasoned investors. The investors, (AKA 'the sharks) then decide whether they want to invest in the product or not. If the entrepreneur doesn't get the full amount of investment they state is needed at the beginning of the pitch, they don't get any investment. Shark Tank features on ABC channel in the United States.  
Claims include that CBD oils featured in a Shark Tank episode, as did keto pills (reportedly in two separate episodes).  
Shark Tank CBD Oil Episode
If you buy CBD oils or have been researching them online chances are you've seen for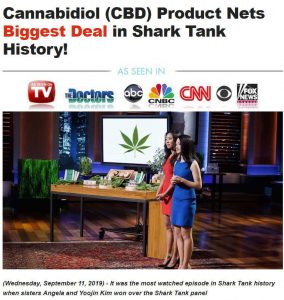 yourself a variety of articles talking about a particular Shark Tank CBD oil episode, one featuring Jamie Richardson or Angela and Yoojin Kim.
But if you look closely, at several Shark Tank CBD oil advertisements, you'll see that the product is usually different each time. That's because people are taking an image of a Shark Tank episode and then photo-shopping images of CBD oils or related imagery on the tv screens in the pictures. 
The challenge you have is determining which CBD oils featured and which didn't.  The list of Shark Tank CBD Oils featured above will help you figure out which product featured and which didn't.
Shark Tank CBD Oils 2020
The interesting thing about many of the Shark Tank CBD oils is that many of them seem to be good products. It's just unfortunate that unscrupulous promoters choose to try to take their piece of the pie by misleading their customers.  
Here are some of the CBD oils promoted on these adds, alongside our opinion of them and whether we think they are worth purchasing.  
1.Full Spectrum Shark Tank CBD Oil

Full Spectrum CBD Oil claims to include cannabinoids which compound to regulate moods and reduce pain.
These cannabinoids according to Full Spectrum, are the same that Harvard Medical are using to manage epilepsy.
They are also known for assisting with insomnia and anxiety.  Which is why this particular full spectrum CBD oil, with links to Shark Tank is our number one recommendation.
Pros and cons of Full Spectrum CBD Oil
The Pros
Available direct from Manufacturer

The most powerful

Full spectrum

Water soluable
2. Pure CBD Oil
Pure CBD oil is a full spectrum CBD oil, which is grown and manufactured in the USA.It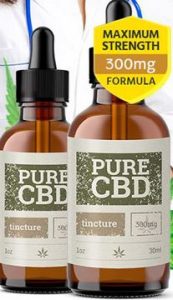 does not contain any pesticides, preservatives or additives and is grown in bio-friendly conditions.  According to the manufacturers descriptions Pure CBD definitely lives up to its name.
It is exactly as described on the tin – pure!
Pros and cons of Pure CBD Oil
The Pros
Pure!

Full Spectrum

Free from chemicals, additives and preservatives.

Bio friendly
The Cons
Not available in all countries.
3. Premium Pure Shark Tank CBD Oil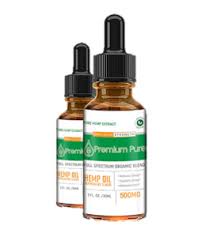 Premium Pure CBD Oil is a private label brand they claim that the purity of this product is higher than 80% of their competitors and can supply proof of purity upon request. They also claim their product is so good that over 71% of their customers repurchase or recommend them.  
Premium Pure CBD also supplies a range of other CBD products, such as balms, ointments and gums.
Pros and cons of Premium Pure CBD Oil
The Pros
Verified pure ingredients

Variety of CBD products

Available in the UK

No side effects
The Cons
Not available in some countries
4. Bionatrol CBD Oil
Bionatrol is a supposedly a Shark Tank CBD oil, though these claims are untrue.  The manufacturers claim that the product contains 350mg hemp actives. It's difficult for us to determine if the product contains cannabidiol which is the most important

ingredient for a CBD oil because we were unable to source the full ingredients list. 
Therefore if you choose to purchase this particular product, we recommend contacting the manufacturer to clarify what ingredients are in the product.  
You purchase this product directly from the manufacturer, which is something you may wish to do if this product you've received recommendations for this product. However, there are other products on this list that are more transparent and easier to verify.
Here are the pros and cons of the Bionatrol CBD Oil
Pros and cons of Bionatrol CBD
5. CannaBliss Shark Tank CBD Oil
CannaBliss is a genuine CBD brand. The quality is high with too.  They continuously test for purity and potency, and they have the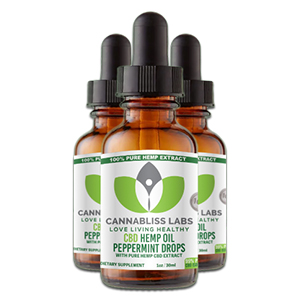 certifications on their website to prove it.  
This CBD oil doesn't smell, and you can't taste it either. This is deliberate because this CBD oil blends in with your favourite beverage such as coffee without compromising the flavour.  
The ingredients are cannabidiol (which is the most crucial ingredient) and fractionated coconut oil.   
This is a quality brand, that oozes transparency.  The brand's owner, built a business for his children to work in when they are older.  Both children have cerebral palsy and would struggle to work in a traditional job in the future.  
Pros and cons of CannaBliss CBD Oil
The Pros
Pure, Tested Ingredients

High-Quality CBD Oil

Transparent Brand

CBD Coffee Available too
The Cons
Not available in every country
6. Turmeric Shark Tank CBD Oil
Turmeric CBD manufactures in Florida, and supply a range of products under the brand. They claim that their products strictly comply with industry-leading Good Manufacturing Practices, and are regulated. Turmeric CBD also claim that they test their products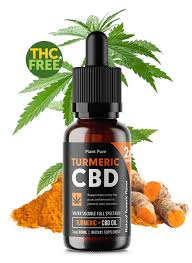 through a third – party by FDA certified labs, which ensures genuine quality. 
They also have plenty of certificates proving their transparency, or should we say purity.
This product contains cannabidiol and appears to be a legit product. You'll need to visit the website to purchase.  
Pros and cons of Turmeric CBD Oil
The Pros
Pure, Tested Ingredients

High-Quality CBD Oil

Safe, Effective Ingredients

3rd party certified.
The Cons
Not available in every country
 

7. Sure Botanicals CBD Oil
This product claims to be 100% organic hemp oil from the US. It's full-spectrum and is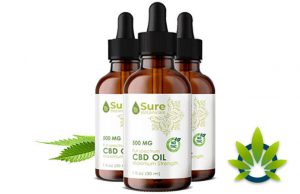 available in a variety of flavours. The oil is derived from coconuts rather than palm and is third-party lab tested for purity and potency. While this is not a Shark Tank CBD oil, many of the adverts do make these false claims. 
Sure CBD oil offers a free trial, but you need to read the terms and conditions before you participate in a free trial to make sure that it's the right CBD oil for you. 
Pros and cons of Sure CBD Oil
The Pros
Claims to be 100% Organic

Variety of CBD products

Oil derived from coconuts rather than palm

Free trial available
The Cons
Limited information about the product 
Shark Tank CBD Coffee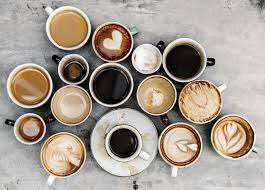 It's not just CBD oil that features on Shark Tank, CBD coffee does too.  But what is CBD coffee?  Well, it's exactly as described – coffee containing cannabinoids.  CBD Coffee is beneficial because the coffee cancels out the sedative effects that CBD oils can provide.  Meaning that if you need to be alert and ready for the day but you also want to reduce pain, CBD coffee is the perfect way to take CBD oils.  Then, in the evening when you are ready to relax, you can enjoy your CBD oils without the coffee and enjoy the relaxing effects.
You don't have to purchase CBD coffee specifically to enjoy these benefits.  All you need to do is to mix some of our recommended CBD oils featuring below into your regular coffee to enjoy home made CBD coffee!
CBD Gummies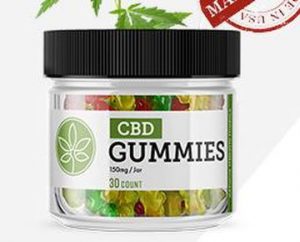 These CBD gummies, were originally developed in the home of the creator.  It's certified and therefore known for providing relief from headache, stress and restlessness.  These Shark Tank CBD dummies do not contain any chemicals or drug extracts and they have zero side effects!
CBD Gummies are made from hemp gum, which relaxes the muscle and calms the mind.
Pros and cons of CBD Gummies
The Pros
Relieves stress

Great for headaches

Free from chemicals, additives and preservatives.

Bio friendly
The Cons
Not available in all countries.
Shark Tank CBD Oil Scam? No!
This review cannot find any evidence of a Shark Tank Cannabis Oil feature or scams. But what it did find is that all of the Shark Tank CBD products featured in this review are high-quality products created by responsible and reputable brands.
The products you find in this review are all genuine products proven to give you results.  
You will not go wrong by purchasing any of the products featured in this review.  All of them have excellent benefits and will enhance your quality of life.  That said, the product below is our favourite of all of the CBD products.
Note: Cannabis oil is not for use or sale to anybody under the age of eighteen, and for it to work, you should only take the product as per the package instructions. If you are pregnant, nursing or have any other underlying medical conditions, you should consult a medical professional before using.  
FAQ's
What are CBD gummies?
CBD gummies are chewable sweets which contain CBD oil. They are great for discreetly taking CBD especially if you are managing anxiety in public.
Is CBD oil good or bad?
CBD oil has many great benefits, so on that basis we say it's good!
What are the CBD oil benefits?
There are many benefits of CBD oil, namely, pain relieving, anti seizure, anti acne, neuro protective and can assist in healing cancer.
What is CBD Oil Coffee?
CBD oil coffee is exactly what it says on the tin - coffee containing CBD oil. You can buy pre-mixed coffee or simply add your CBD oil to any household coffee you have at home.
Does CBD oil help with anxiety?
Yes, CBD has a very good reputation for helping to calm anxiety.