Growing old is a natural process that every human being in this life goes through. However, we all try to maintain a younger look either through surgical procedures or products like Crepe Erase.
In this review, we'll debate whether Crepe Erase really works and if it is worth the money.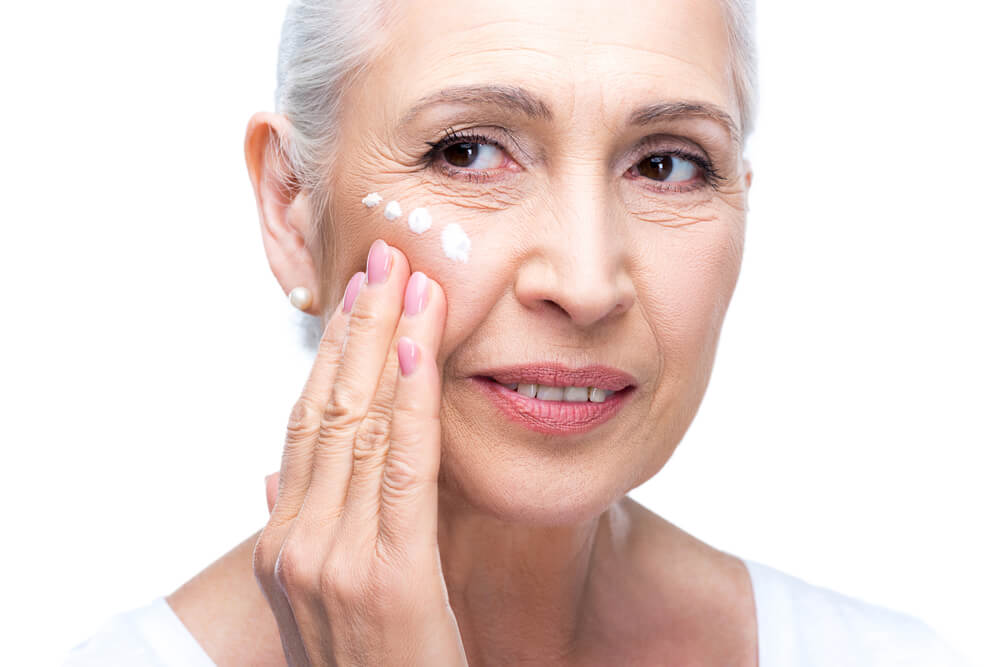 No doubt, aging takes a toll on our skin. This is more so because our bodies tend to produce less elastin and collagen which are essential for keeping the skin smooth.
Moreover, prolonged exposure to the sun and changing weather may fasten the process of aging. This is why we all require anti-aging products to protect ourselves from these and other extreme conditions.
In this review, we will analyze Crepe Erase in depth to give you an idea of what the product entails, how to use it, where you can purchase it, and any other relevant information that will help you make a more informed decision while making a purchase.
Try Our Best Rated Skin Product: SKN Renew!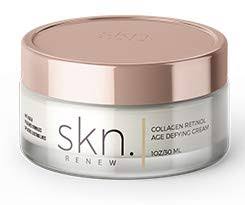 Rebuild & Renew Skin
Erase Wrinkles & Fine Lines
Clinically Proven Results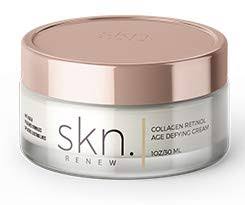 Table of Content
What is Crepe Erase?
Crepe Erase is an anti-aging formula which helps to get rid of crepey skin on arms, chest, around the neck, and legs.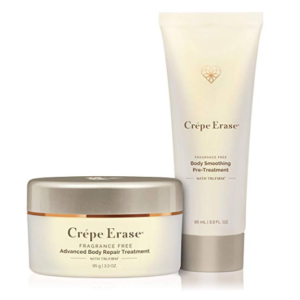 The product is ideally designed to treat the signs of aging and slackening skin which are common with older people.
It contains plant extracts and other natural products, which means it does not cause harmful effects on the body. Further, Crepe Erase is tested by dermatologists who have asserted the product to be effective and safe for use.
The presence of shea butter and coconut oil makes it the ideal product to repair and moisturize the skin, hydrate the body, and repair broken skin.
What are the pros and cons of using Crepe erase
The Pros
It has been proven to enhance the production of collagen which is vital for keeping the skin smooth and hydrated.
It contains super hydrators which have antioxidants from ingredients that are sourced naturally, such as sage, apple, and dill.
Crepe Erase is effective in strengthening the skin barrier and plumping the appearance of the skin.
The product repairs and keeps the skin moisturized.
It has the ability to reverse crepey skin.
Cons
It can be too greasy and rather uncomfortable on the skin.
Some of the ingredients used to make the product have been confirmed to cause allergy to some users.
It can cause eye irritation and mild skin.
What are the Ingredients of Crepe Erase?
Apple
Sage
Dill
Shea Butter
Vitamin E
Olive Fruit Extract
Cotton Thistle Extract
Coconut Oil
Apple is an antioxidant which means it helps to keep the skin hydrated as well as preventing skin damage due to exposure to the sun.
Dill is essential in keeping the skin elastic
Sage also works as an antioxidant, thus it is complementary to apple.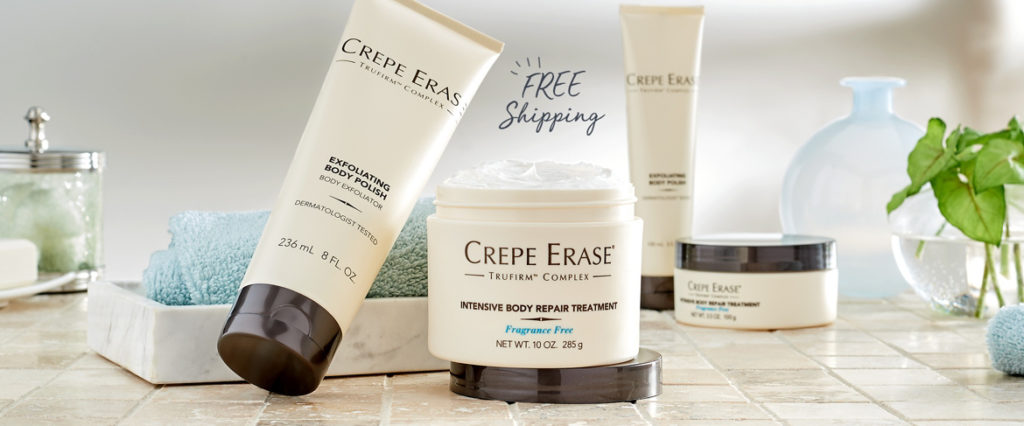 Shea butter is derived from Shea tree. It contains fats, vitamin C, antioxidant, and anti-inflammatory properties.
Vitamin E helps to keep the skin elastic. Additionally, it has qualities that hydrates the skin.
Olive Fruit Extract works as a skin conditioning agent.
Cotton Thistle Extract keeps the skin moist and hydrated. It also repairs damages as a result of exposure to the sun.
Coconut Oil is proven to work as a hydrant.
How to Use Crepe Erase
i. Clean the affected area thoroughly, and dry it off with a clean towel
ii. Apply the cream on the affected area and massage in circular motions to invigorate the skin and to remove dead cells.
iii. Continue to rinse with hot water and leave it to dry.
Crepe Erase Product Range
Crepe Erase includes seven products that come in different combination depending on your order. Moreover, each product is designed to be used differently and on specific body parts. They include;
4-in-1 Renewal CapsulesOvernight Facial Plumping TreatmentBody Smoothing Pre-treatmentAnti-aging Hand Repair TreatmentFlaw Fix Eye CreamAdvanced Body Repair TreatmentUltra Hydrating Body Lotion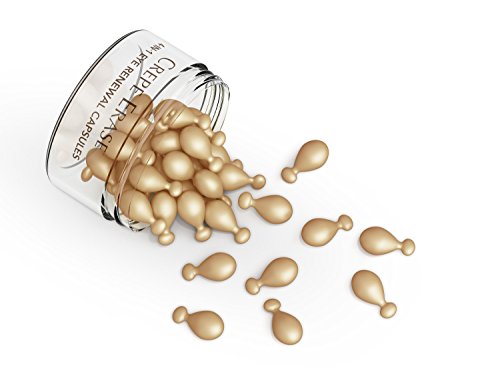 The 4-in-1 Renewal Capsules product is offered as a free bonus after purchasing any package.
According to the company, the product is used to reduce or eliminate the fine lines that appear around the eyes; you are required to apply the serum on the parts that need nourishment.
Moreover, you achieve the desired results if you use it as per the guidelines provided by the manufacturers. Some of the ingredients are; dimethicone crosspolymer, isododecane, phenylpropyldimethylsiloxysilicate, and isododecane.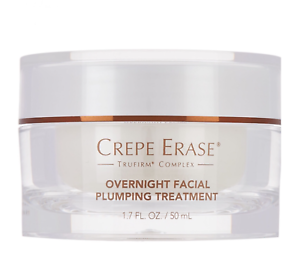 The product is used to smooth the skin and is usually applied when you are going to bed.
It is essentially meant to restore skin elasticity and give you a fresh-looking face.
For optimum effect, apply a thin layer of the product every night for the specified period.
The top ingredients of Overnight Facial Plumping Treatment are; polyglycerides, Olea europaea (olive) fruit oil, palmitic acid, and glycerine.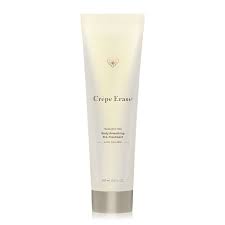 This product prepares your skin for the Advanced Body Repair Treatment and is meant to make the skin smoother.
The process of application is the same for all products, including this particular one. Some of the ingredients used to make it are; hydrogenated castor oil, glycerine, sodium C14-16 olefin sulfonate, Cocamidopropyl betaine, and propanediol.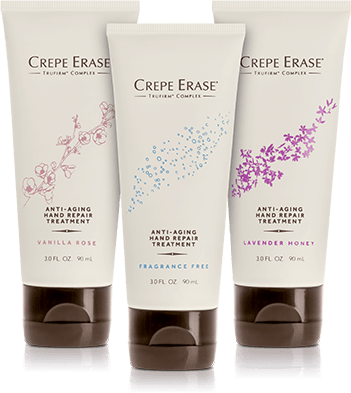 The hands are often the first body part to show signs of aging.
This specific product is meant to eliminate the crises that appear on the hands.
If applied for the specified time, Anti-aging Hand Repair Treatment can help to make the skin on your arms appear smooth. The ingredients used here are; squalane, Caprylic/capric triglyceride, Cetearyl alcohol, and Caprylic/capric triglyceride.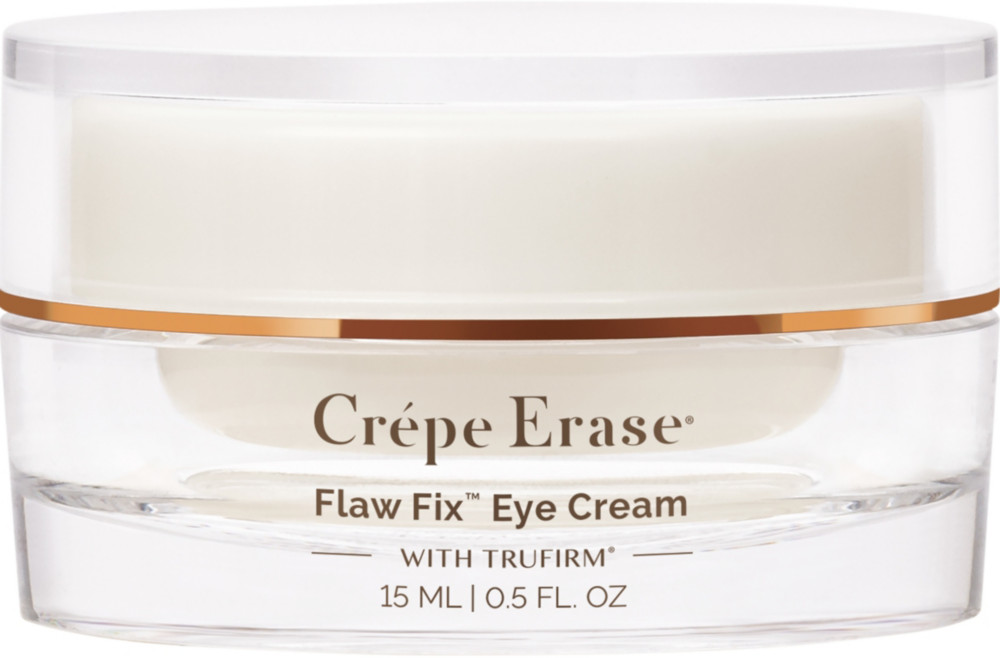 This product is designed to reduce fine lines and puffiness that usually appear around the eyes.
It also helps to smoothen the skin, thus giving you a fresh-looking face. Its ingredients are; cetyl alcohol, adipic acid, pentaerythrityl tetracaprylate, and dimethicone.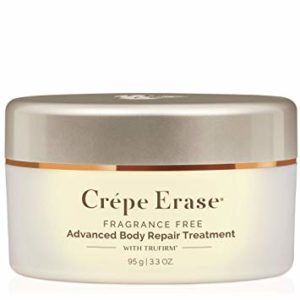 This is a first absorbing formula that contains nine super hydrators which work to make your skin more appealing.
It helps in improving the texture and tone of the skin around the arms, chest, and legs.
Just like the other products, you apply Advanced Body Repair Treatment on the target areas in circular motions. This product contains glycerine, Olea europaea (olive) fruit oil, dimethicone, and stearic acid.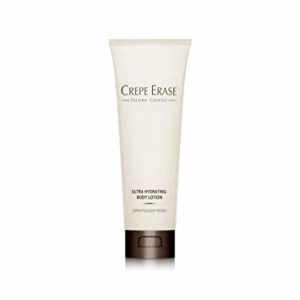 This is a product that keeps your body moisturized and smooth.
Like the rest of the products, you should use it as per the provided guidelines.
What Crepe Erase Facial Cream is Available?
The Refining Facial Scrub and Restorative Facial Treatment are two of the Crepe Erase products you'll want in your arsenal if you are looking for facial skincare from Crepe Erase. Both contain the patented formulas to tackle crepiness. They also provide many other additional beneficial ingredients. 
Is There Crepe Erase For Hands?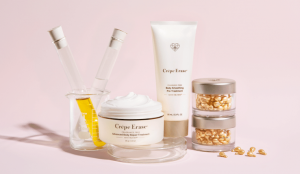 While others may not notice crepey skin on hands, the chances are that if you have crepey skin on your hands, you'll notice it especially since you look at your own hands more than you do your face. So is there a Crepe Erase product for hands? Well, there isn't a specific Crepe Erase Hand Cream, but there is the Advanced Body Repair formula which is useful for all areas of the body.  
It's particularly good for hands because it replenishes, plumps and forms a protective barrier. So if crepey hands are your product area, this might be the product for you. 
Who is This Product For?
Crepe Erase is specially made to smoothen and revitalize aging skin, hence designed for older people.
Typically, the skin starts to thin and appear dry from the age of 35, although this may vary depending on several factors, such as one's lifestyle, diet, climate, and genes.
Most people begin to experience the signs of aging between the age of 40 and 45. At this age, the body does not produce enough collagen and elastin to keep the skin smooth and hydrated.
Accordingly, you are bound to notice some changes on your skin, and this is where Crepe Erase comes in. Designed specifically to eliminate the signs of aging skin, this product will help you to regain a smooth and hydrated skin.
How Much Does it Cost and Where Can You Purchase it?
There are several avenues where you can purchase Crepe Erase, including the company's website, Amazon, or on  QVC, and approved outlets.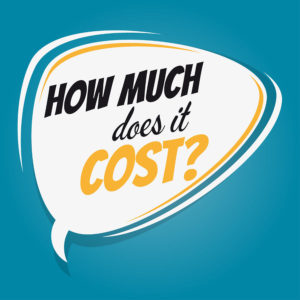 Moreover, the prices vary with the number of products and of course, depending on your location where the cost of shipping applies.
For five pieces, you will spend 59.95 dollars and an extra 5.99 dollars for shipping. The five pieces include Exfoliating Body Polish, Ultra Hydrating Body Polish, Intensive Body Repair Treatment, Refining Facial Scrub, and Advanced Body Repair Treatment.
Two pieces which include Exfoliating Body Polish and Intensive Body Repair Treatment go for 39.95 dollars exclusive of the 5.99 dollars the company charges as the shipping fee. Both packages come with a free 4-in-1 Eye Renewal Capsules.
Purchasing through the company's website automatically enrolls you into a subscription program which makes you eligible for receiving new products every three months.
You will also be auto-charged the full amount plus the shipping fee.
However, you can opt out of the program if it is not convenient for you. It is usually advisable to understand how these programs work to avoid incurring expenses that you are not in a position to cater to.
In any case, they tend to be expensive since they rope you into recurring charges that might end up costing you a lot. The company provides a 60-day money guarantee if you return a product.
What Precautions Should You Take?
There are precautions which every user of Crepe Erase should observe while using the product.
First and foremost, your doctor should confirm whether it is safe for you to use it since some people can react negatively to skincare products.
In general, these products are not suitable for you if you have hormone-dependent cancer (or a medical condition), have any hypersensitivity, nursing, or pregnant.
Second, you should keep them out of reach of children who are prone to ingesting them.
Third, you should keep them safe and far away from heat. Fourth, do not bring them into contact with the eyes. In case of contact, rinse with lukewarm water.
Crepe Erase Reviews and Complaints 
Crepe Erase has attracted both positive and negative reviews, although it is clear the great majority are pleased with the outcome after using the products.
One Penny J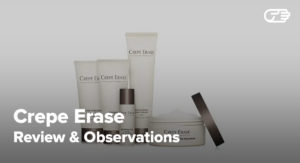 . agrees that Crepe Erase has been quite effective in reducing the wrinkles around her chest and arms. She also adds that it has helped to remove the lines around her eyes.
Most users contend that the range of products are worth the money, and they are willing to continue using them to keep their skin smooth.
However, there are customers who have raised complains that the product causes irritation, redness, and it can be too greasy for one's comfort.
Others seem to have a problem with the purchase process where they complain that they are unable to cancel their subscriptions which result in them incurring extra charges.
Try Our Best Rated Skin Product: SKN Renew!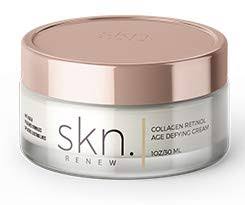 Rebuild & Renew Skin
Erase Wrinkles & Fine Lines
Clinically Proven Results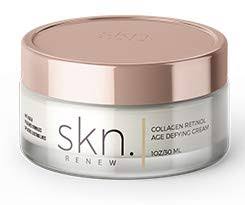 Information About Crepe Erase as Seen on TV?
We've noticed that many people search for 'Crepe Erase' as seen on TV and can confirm that the Crepe Erase we discuss in this review is the Crepe Erase you are searching for. You'll see a link to one of the Crepe Erase commercials below.  
What Is The Crepe Erase Commercial?
The Crepe Erase Commercial is pretty iconic. It's an infomercial all about Crepe Erase, which is very useful for learning how the product works and why. Of course, infomercials are there to sell the product, so you'll need to do your research to make sure you are happy with testing Crepe Erase out for yourself and are not all hyped up because of their commercial!  
There are several versions of the Crepe Erase Commercial, and you can click here to see one for yourself. 
Who Does The Crepe Erase Commercial?
There are a number of actresses, and other public figures who do the Crepe Erase commercial. You can expect to see names such as Jane Seymour or Melissa Gilbert. 
Is Crepe Erase a scam?
No Crepe Erase is not a scam. It's a genuine skincare product formulated to target a specific skin issue – crepey skin. Sometimes though, the marketing can make it seem like it's a scam or too good to be true because they operate differently to many traditional skincare companies. 
Reviews for Crepe Erase, are they positive?
The reviews for Crepe Erase are varied, much like many other skincare products. There are positive reviews and evident results and people who didn't get along with the product.  
Our recommendation is to purchase the least amount necessary at first, and then if you feel as though it's working move on to buying the system you would ideally prefer. This way, you get to try the product out without losing too much money if you're disappointed.  
Crepe Erase Reviews Youtube, Are There Any?
There are many Crepe Erase reviews on Youtube. And, as you'd expect from a skincare product the reviews are mixed, it worked for some reviewers but didn't for others.  
The review linked above is typical of most Crepe Erase reviews on Youtube.
Does Crepe Erase Work?
Crepe Erase is definitely a genuine skincare formula created with many beneficial ingredients, which means that it will work as a skincare product. However, the jury's out when it comes to determining how well Crepe Erase reduces crepey skin. Some people agree that it does work while others do not. 
If you choose to purchase Crepe Erase, it would be wise to decide to go for it knowing that at the very least you get a good quality moisturiser and at best, something that will tackle your crepey skin. This way, you won't be disappointed, and you will enjoy the product you've purchased for what it is – a high-quality skincare product. 
Crepe Erase Amazon, Is It Available?
Yes, Crepe Erase is widely available on Amazon.com and some products are available on Amazon.co.uk although the choice is limited and they are rather pricey! 
Crepe Erase – Our Verdict
There are a lot of dissenting reviews as far as the efficacy of Crepe Erase formula. This is not surprising since people are naturally expected to be subjective on such matters. To avoid being fed with misleading information, you should use the products yourself to have a first-hand and more informed opinion about it. More importantly, you should observe all the precautionary measures laid out in this review before using the product, lest it does not work well with your skin.
FAQS
What are some of the products that comprise Crepe Erase?

There are seven products that are included in the Crepe Erase formula. You can visit the company's website to understand more about them.

Who are the target customers?

These products are meant for people who are beginning to experience the signs of aging, such as having a crepey and dry skin. Typically, they are designed to reduce these signs and to give you smoother and revitalized skin.

Where can I purchase Crepe Erase products?

Crepe Erase formula is available on the company's website, approved outlets, Amazon, Kohls, and QVC.

What are the benefits of using Crepe Erase?

Crepe Erase has a lot of benefits to the user. For example, it helps to get rid of dry and crepey skin. In the end, you attain a youthful look and an appealing skin.

Is Crepe Erase good for my skin?

Before using the formula, you should get the approval of your doctor since it can have negative effects on you based on several factors, such as allergies, and medical conditions.

Does the company make refunds if you are unsatisfied with the products?

The company makes a refund within a period of 60 days after making your purchase. A full refund is made exclusive of the shipping fee.

Crepe Erase complaints, are there many?

There are no complaints that we found about Crepe Erase as such, though we are sure that they have some complaint like any business does. However, there was an equal amount of positive versus negative reviews. This seems to be a product with an acquired taste. Those that like it – love it and those that don't are not impressed at all .

Where to buy Crepe Erase?

Crepe Erase is available from the Crepe Erase website, Amazon, and sites such as QVC.

Ingredients in Crepe Erase, what are they?

The ingredients in Crepe Erase vary depending on what product you are researching. Crepe Erase do provide a  full ingredient list, which you can download by clicking the link.

How much is Crepe Erase?

Crepe Erase costs around $39.95 to $59.95 depending on what system you choose.

Crepe Erase phone number, what is it?

The Crepe Erase phone number, to reach customer service is 1-888-708-2042

Crepe Erase cancellation policy, what is it?

If you need to cancel your Crepe Erase subscription, you can do so by either calling their customer service phone number which is 1-888-708-2042. Or use their online chat facility.

Is Crepe Erase cruelty-free?

Crepe Erase to never test their products on animals, instead 'they test on people'. So it appears that Crepe Erase is indeed cruelty-free.

Is Crepe Erase sold in stores?

You can buy Crepe Erase from some stores such as Amazon, QVC or directly from the Crepe Erase website.