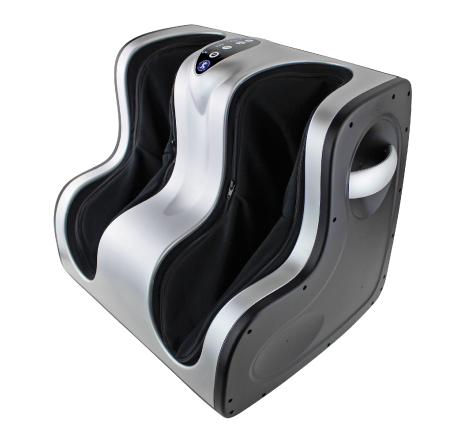 Most of the people out there who have to spend a great amount of their time every day on their feet tend to face mild to chronic soreness and pain in their feet, ankles and calves. Switching their routines to lessen the time spent standing may not be possible for many as their occupation may require them to do so-waiter/waitresses, athletes, surgeons, etcetera, are examples of such people. These problems aren't just confined to the working population; any regular, average person can face such difficulties. To ease this pain and alleviate this leg/foot soreness, you're open to many options with the most familiar one involving hiring services of professional masseurs and masseuses or visiting physiotherapists. 
However, an alternative to these is the use of a leg massager machine which has the potential of treating aching feet and legs effectively. The use of a helpful device like a leg massager machine is not very common and widespread today though, mostly because many people aren't even aware of its existence. In this post, we will be educating you about leg massager machines; their benefits and two common types of leg massager machines.
Table of Content
Benefits of Owning a Leg Massager Machine 
Experience Pain Relief at Home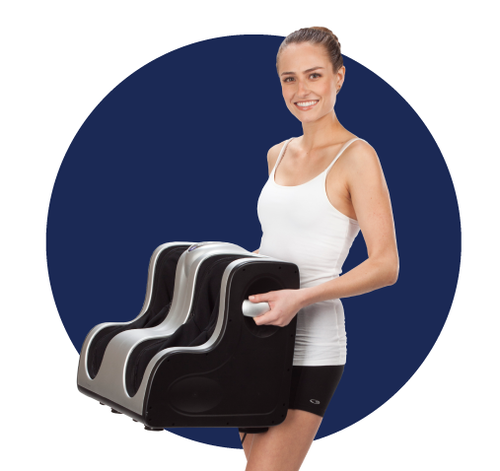 Taking time out of their busy schedules to visit a physiotherapist or a masseuse may be difficult for many people today. This difficulty may be compelling them to keep delaying scheduling appointments and making visits which in turn is most likely to worsen their leg and foot aches. No need to worry! A leg massager machine eliminates the need for you to leave your house and allows you to have a relaxing, therapeutic experience comfortably at home. 
Portable
A leg massager machine is usually lightweight, easy to lift/carry and comes with side handles which makes it extremely portable. Portability enables you to carry your leg massager machine anywhere you like-to your bedroom, workplace, holiday, pool-side, etcetera. With this device at hand, you can sit back and relax anywhere you wish. 
Effective Leg, Calf and Foot Therapy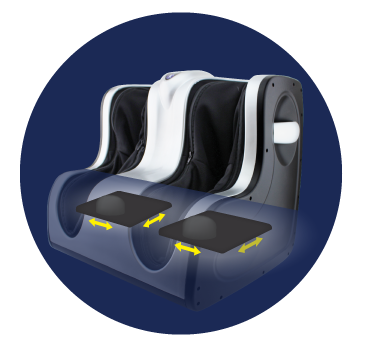 Thanks to the increasing competition in the market of these devices, most companies that manufacture leg massager machines today provide customers with quality products which target legs, calves, ankles and feet. These machines are highly effective at what they're designed to do. They apply adequate pressure to your strained leg muscles and target them (by rubbing) in a way which loosens and soothes them, regulates healthy blood circulation, prevents fluid retention, numbs pain and relieves soreness effectively. 
Some leg massager machines today come with heating options which adds value to your healing experience by increasing circulation, reducing inflammation and making your entire leg's muscles more elastic. The resultant relaxed legs, calves, ankles and feet improve your body's overall movement and performance significantly. 
Save Money
A leg massager machine can require a somewhat large investment, depending on the features of your chosen machine. But, comparing this one-time cost to the cost of hiring external massage services, say every week, gives a clear view of the cost-effectiveness of this device. When using a leg massager therapist, you can spare yourself the burden of paying frequent massage service charges. 
The Two Common Types of Leg Massager Machines 
Both of these leg massager machines have been reviewed by many users to be effective massage devices. 
Air Compression Leg Massager Machine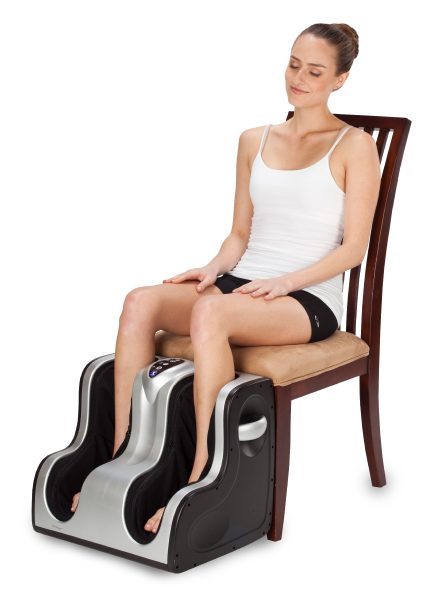 This type of lower massage therapy is a milder and more controlled one which treats pains that result due to fluid build-up or muscular tensions. They work at regulating your blood flow and relaxing your tightened muscles by applying gentle amounts of pressure. The pressure that an air compression leg massager applies to your legs releases endorphins which in turn helps in relieving pain and removing excess fluid and toxic buildup. 
Air compression massage machines require the user to wrap the pressure-creating devices onto their legs and even feet. There are several variations into these machines, offering a wide range of services which work on improving blood flow throughout your lower body. 
Shiatsu Leg Massager Machine 
This leg massager machine is inspired by the Japanese concept of 'energy flow'-qi-and provides relief by regulating the qi of a human's body. Modern Shiatsu leg massager machines knead deep into your sore muscles, rubbing against your calves, around your ankles and below your feet to target problematic and painful areas. 
These leg massager machines usually make use of vibration technology and can easily be used by a regular person. Most just require you to sit, insert your feet in the leg massager machine (making sure that your calves and ankles are positioned correctly) and enjoy the relaxing effects!